I love our house we moved into a few months ago. I decided to keep the same kitchen theme which is Mary Engelbreit. If you've never seen any of her stuff, you have to google her name and peruse. I would describe her art as a mixture of cute with a dash of whimsy.

Anywho, I wanted a centerpiece for our table, but as usual money is tight. LOL I made one for $5 by shopping a sale and using what I already had. The vase was one of those that came with a flower delivery I received sometime ago. The "runner" was actually the valance I used at our previous home. As you can see, the window is huge in our kitchen so it was way to short. I got the berry stems at Hobby Lobby for 50% off. Total cost was $5 Here is the result: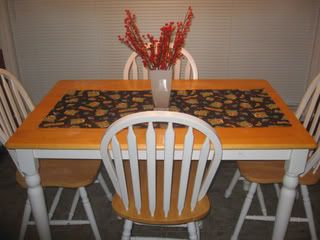 If you don't have much money to spend, go digging around and see what you already have. And remember, you can always do a spray paint job if you need to. Just open up that creativity part of your mind and let the ideas come freely!